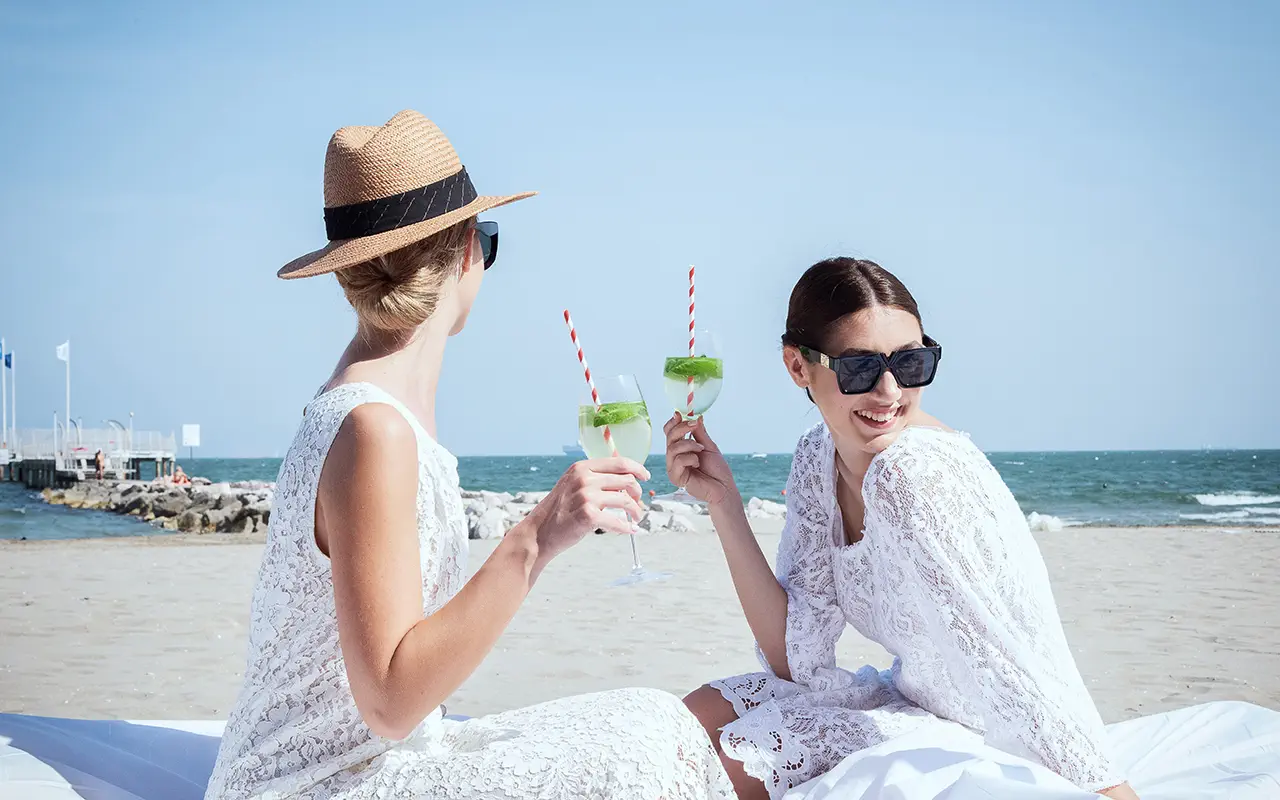 The Blue Bar Terrace of the Hotel Excelsior on the Lido di Venezia is the place to be in summer 2022: Venezia da Vivere and Hotel Excelsior present the Excelsior Days of summer 2022: cultural meetings, exhibitions, cocktails, and fashion shows among architecture, history, crafts, and fashion
The Programme
Wednesday 29th of June 2022 from 7 to 8:30 pm
Digital communication for the art professions: a talk with Marco Bettiol, lecturer and writer, and the designers involved in the exhibition at the Excelsior Gallery.
Excelsior Gallery
Craftsmen and masters of art for Venice
The hotel's gallery displays the creations of historic and emerging names in Venetian design and craftsmanship. The gallery is open to the public until October 2022.
Fashion Summer
Wednesday 20th of July 2022
from 6 to 8:30 pm
New York-based brand  Là Fuori presents its new collection in the Sala degli Stucchi of the Hotel Excelsior, where the unforgettable scene with Robert De Niro and Elizabeth McGovern in Sergio Leone's Once Upon a Time in America was filmed.
Born in 2019 in New York, Là Fuori is a lifestyle brand representing a community of "nomadic and creative hearts" committed to the enhancement and inclusion of artisanal textile cultures around the world.
Thursday 28th of July 2022
6 to 8.30 pm
Passions, stories of talent and craftsmanship, precious fabrics, hand-painted silks, unique tailoring, and design creations where Venice is the inspiration, cradle, and lifestyle, for a choral fashion show of emerging Made in Veneto brands.
Excelsior Days | Summer 2022
Hotel Excelsior Lido Resort
Lungomare Guglielmo Marconi, 41, 30126 Lido VE
Events are by invitation only.
For information write to hello@veneziadavivere.com. Please wait for confirmation.
The events will be live on the social channels of @veneziadavivere and @venicefashionweek.
Official videos will be shot during the events.
The photos are by Rossana Viola (cover), Settimo Cannatella (Hotel Excelsior), Igor Serdyuk and Marta Formentello for Là Fuori brand.