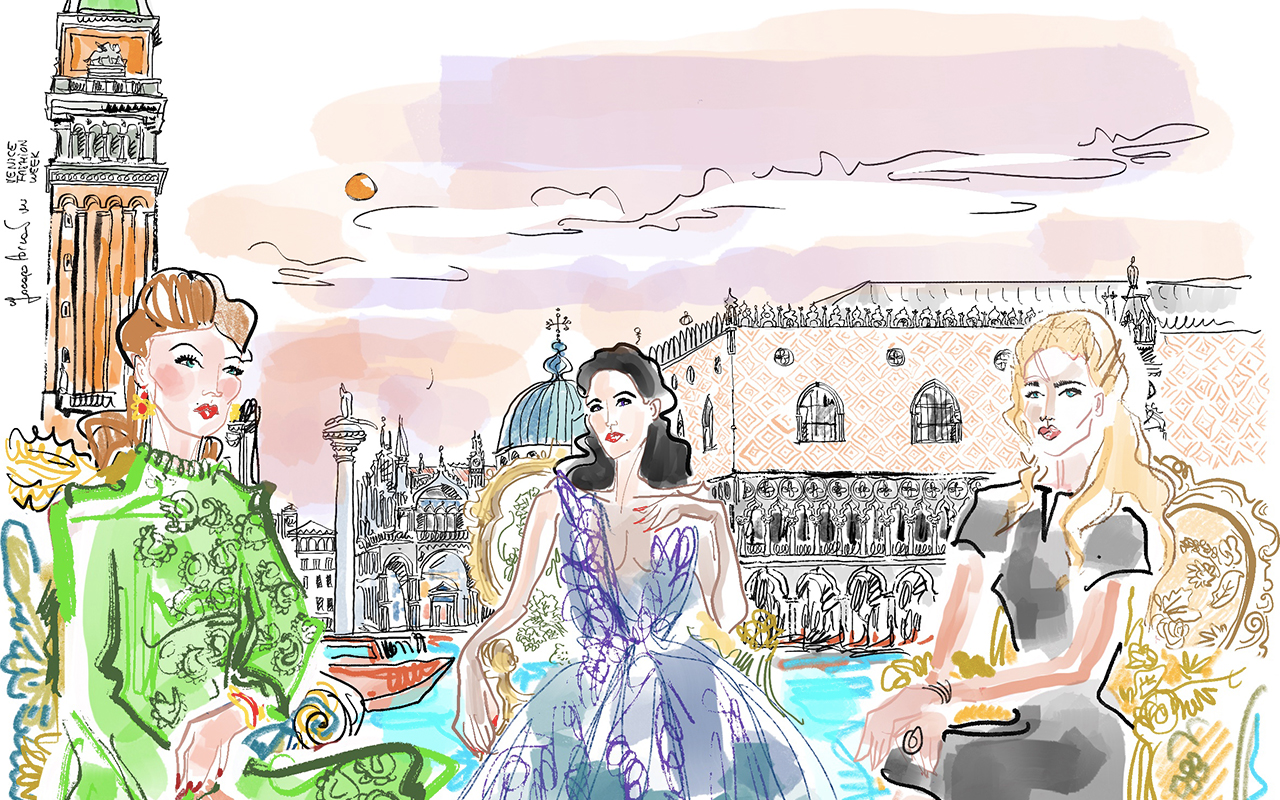 Venice fashion week will be back from October 19 to 29 2022 with fashion shows, exhibitions, and conferences. As during the previous editions, the main focus will be on sustainable fashion and fine craftsmanship. The latest addition is Ornamenti, the design and artisanal accessories exhibition at Palazzo Sagredo, happening from October 26 to 28
Venice Fashion Week aims once again to present Veneto's creativity and collaborations among international designers and Venetian craftsmanship masters.
Venice is the main centre for fine craftsmanship, and that's why in the last couple of years, it became the stage for international events and fashion shows Venice features weaving, lace, glass blowing, and mosaic ateliers, design studios, and young designers merging tradition and contemporary style.
Created and organized by Venezia da Vivere, the event was first launched in Venice in 2013 in order to promote the value of fine craftsmanship for future generations.
VFW news
October's edition presents a new program of conferences and workshops on the main theme of sustainable fashion. The aim is to discuss topics such as consumers' education, sustainable tourism, education of future generations, upcycling, creativity, and craftsmanship for the future of the planet.
These topics are ongoingly important within Venice Fashion Week, in fact, they were widely discussed and presented in 2018 with the conference Make it last, which presented Venice as a laboratory to promote sustainable lifestyles, and in 2019 with the Sustainable Fashion Day organised in collaboration with the British Consulate with the participation of British ambassador Jill Morris, Marina Spadafora from Fashion Revolution, and the designers Patrick McDowell and Tiziano Guardini.
Ornamenti, the new section within Venice Fashion Week, is a design and craftsmanship accessories exhibition, presenting handmade accessories like bags, hats, jewellery, ceramics, Murano glass, and fabrics in the marvelous spaces of Palazzo Sagredo on the Grand Canal.
Partner
The exhibition is organized in partnership with the City of Venice, Tavolo del Veneto Della Moda (Confindustria, Confartigianato, Confesercenti, Confcommercio, and CNA), and under the patronage of the Michelangelo Foundation, Fondazione Cologni dei Mestieri d'Arte, Confartigianato Italy, Italian Artisan, and Camera Buyer.
Jacopo Ascari is the official illustrator of Venice Fashion Week 2022.
Venice Fashion Week is in partnership with Chi è Chi, Venice Cocktail Week, and Venice Photo Lab.
The program is constantly updated on www.venicefashionweek.com.
Photo by Settimo Cannatella, Rossana Viola, Igor Serdyukov, and Marta Formentello.